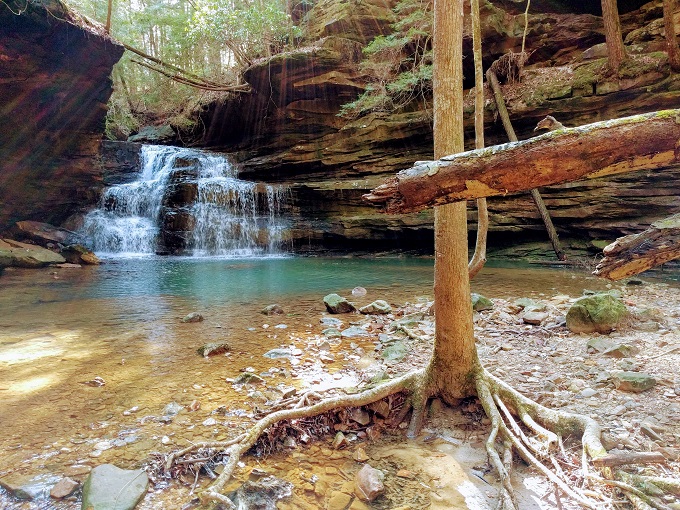 Lawrence County is home to an expansive national forest, a renowned cotton company, and so much more! Bankhead National Forest holds the only wild and scenic river in the state: Sipsey River. Bankhead covers a whopping 181,230 acres and possesses sprawling hiking trails that lead to stunning natural waterfalls. In 1918, Woodrow Wilson created the national forest by presidential proclamation. Seven years later, the Sipsey River Game Refugewas founded where deer and turkeys were released into the forest. The park is divided into six areas for specific interests like fishing, camping, swimming, hiking, and picnicking. The Sipsey Fork river is a great route for a relaxing day on the water, floating in your kayak or canoe.
The forest accommodates a host of local endangered species. The Black Warrior Waterdog is a large salamander that is only found in the Black Warrior River Basin, which flows into the Sipsey. One of the waterfalls, Caney Creek Falls happens to be the most photographed waterfall in Alabama. This waterfall offers a grand swimming oasis for the warmer months. Bankhead National Forest provides an abundance of exploring for every season.
In Moulton, you will find the birthplace of Red Land Cotton. Red Land Cotton is a quality fibers company with its roots planted in Lawrence County. They specialize in 100% cotton bedding, towels, loungewear, and kitchen essentials; all made in the United States! The cotton is grown and harvested at their farm; owned by native, Mark Yeager. The cotton gin has been in the family since 1994; where owner, Mark Yeager, built it himself. Yeager is a third-generation and focuses on keeping sustainability at the forefront of Red Land Cotton's production. You can visit the store in Moulton and see their farm-grown products.
Enjoy a summer's day in Lawrence County by attending their annual Strawberry & Antiques Festivalin Moulton. This festival showcases local vendors and musicians. In addition, there is a car show, corn hole tournament, and free activities for kids. Lawrence County gives residents a community-centered place to build a life and residence.
By Brooke Frazier